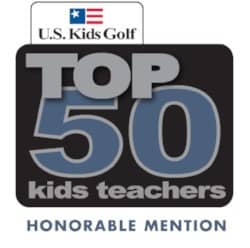 PGA Professional Andy Scott has been named Honorable Mention in the 2017 Top 50 Kids Teachers by U.S. Kids Golf, a national honor.
U.S. Kids Golf Certified Coaches are experts in teaching golf to kids ages 12 and under. Certified Coaches make learning fun by using game-based teaching methods and playing from scaled yardages on the golf course. Scott and Connell have achieved certification, which includes attending a Certified Coach Seminar and completing a course with Positive Coaching Alliance.
U.S. Kids Golf is the leading youth golf organization in the world; dedicated to helping young players enjoy golf through better equipment, well-organized tournament play, and new learning and coaching resources via their Coaches Institute.