PGA Professional
Andy Scott
Instruction Philosophy
I believe that in order to be a successful teacher you must first have great communication skills and a true love to teach.  Without these two essential fundamentals, golf instruction will be unsuccessful. In addition, to become an exceptional instructor, I believe there are six important fundamentals.
Understand how people learn.

Differentiate personality traits, and how each learns in a unique way. 
Golf swing should be simple, solidly set up, and fit the individual. 
Identify fitness capability and potential improvement to balance, strength, and flexibility.
Establish a solid student-teacher relationship built on comfort, respect, and enjoyment.
Develop common goals for growth in practice habits, playability, and enjoyment of the game.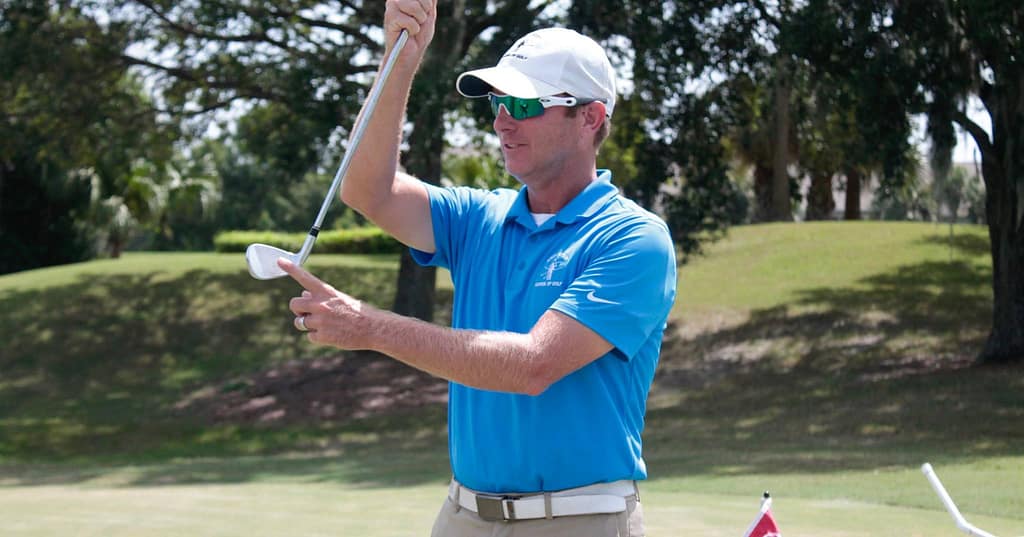 Mission Statement
My Goal is to enable golfers of every skill level to develop his or her game through simplicity, respect, and effective golf instruction.
I believe making the game easier and fun will bring new students to the game and create new excitement for the seasoned golfer.
During each lesson, students will be treated with care and concern for their self-esteem as well as their physical game's improvement.  Students will learn swing concepts and fundamentals which will allow them to self-diagnose their problems and find solutions with their new understanding of the game.
PGA
Professional and Golf Instructor Andy Scott originally hails from Kentucky and has trained with world renown golf teachers such as Hank Haney, Bob Toski, Jim McLean, Phil Ritson, & Mac O'Grady. He has been recognized amongst his peers and students alike as one of the Top Golf Instructors in South Florida. His positive, simplistic approach to golf lessons has helped many players improve their games.
He has the great ability to work successfully with golfers of all ages, teaching golf lessons of all skill levels from beginner to current tour players, as is evident by his large base of golf students. Andy has a strong junior golf program which has produced 52 juniors to NCAA Collegiate Golf Scholarships.

When not improving his student's golf games, Andy is a special guest speaker at many engagements including The Florida Gulf Coast University professional Golf Management Program and is actively involved as Chairman of The Southwest Florida PGA Play Golf America initiative. He has traveled around the country conducting various teaching seminars and growth of the game functions. Andy also Co-Hosts a weekly radio show on 99.3 ESPN titled "Play Golf Southwest Florida" Sundays from 8-10 am. In 2016 he received his Titleist Performance Institute Level 1 Certification.
Accomplishments
Recipient: 2019, 2015, 2014 & 2010 PGA Teacher of the Year award for the Southwest Florida Chapter
Recipient: 2018 Player Development Award, Southwest Chapter, South Florida PGA
Recipient: 2017 U.S. Kids Golf Top 50 Kids Teachers Honorable Mention
Recipient: 2013-2014 Golf Digest Best Teachers in Your State 30th in Florida
Recipient: 2012 PGA Teacher of the Year award for the South Florida Section
Elected to Membership in thePGA of America 2005
Five time recipient to the PGA Presidents Council for Growth of the Game
Growth of the Game Chairman South Florida Section 2013-2015
Growth of the Game Chairman Southwest Florida Chapter 2006-2013
Finalist: Teacher of the Year South Florida Section 2007, 2009, 2010, & 2011
Finalist: Assistant of the Year South Florida Section 2007 & 2009
Finalist: Teacher of the Year Southwest Florida Chapter 2006, 2007, 2008, 2009, & 2010
Notable Students
Andy works currently with professional, Chase Marinell who  played on the Web.com Tour.
David Mobley · Two Time Remax Long Drive Champion
Developed and trained 54 students to NCAA Golf Athletic Scholarships
Worked and trained over 10 visually impaired golfers who can now play and enjoy the game of golf.
Instructed over 30,000 golf lessons
Certifications
Professional Golfer's Association of America Professional Golfer
Certified: Titleist Performance Institute Level 1 Certification
Certified: US KIDs Golf Certified Coach